The RailPAC Mission: Passenger Rail advocacy, Publications…both print and electronic, Representation at regional meetings, and Rail education. Join us! More memberships increase our strength in presenting the case for rail to policymakers at all levels!
Amtrak has neglected California for too long and relied too heavily on state support. We need:
The Coast Daylight daily train to start immediately, between downtown San Francisco and Los Angeles
A Daily Sunset Limited, providing through service to Chicago
An immediate order of passenger rolling stock for the overnight and California corridor trains
California High Speed rail
Here are the most recent posts pertaining to current issues.
CONNECTIONS!  It's all about connections. Depending on your journey you may live close to a station that has a direct service to your destination.  But there's a good chance that you'll need to transfer, from bus to train, light rail to high speed rail, Surfliner to long distance Amtrak.  RailPAC's campaign is all about connections between these modes so that all of us can enjoy mobility without the automobile.
Our map attempts to portray the statewide system that we want to see over the next two decades.  What it cannot show, but is equally important, is the electronic ticketing and information system that is needed to make passenger rail easy to use for 40 million Californians.
RailPAC is working with Caltrans, Amtrak, and all agencies involved in achieving the following goals for expanding and extending safe, reliable rail passenger service. We support adequate funding for these services and vigorous promotion of them so they may achieve economic stability through increased ticket sales.
We are involved in explaining the advantages of, and potential issues surrounding, current proposals:
Northern California
Extending the Surfliner Corridor to downtown San Francisco by starting the long planned Coast Daylight train
Expanding Regional Rail service in Northern California with added service in the Capitol Corridor, linking Monterey, Redding, and Reno, NV into an integrated network, and coordinating.service at Fremont with the Capitols, ACE, BART, and Caltrain with the reopening of the Dumbarton Bridge
Joining the Northern and Southern California Regional Systems with a High-Speed Line, starting incrementally with an extension of San Joaquin trains across Tehachapi to Los Angeles
Establishing the SMART commuter project in Marin and Sonoma Counties
Expanding Caltrain to Salinas, and electrifying the entire line
Providing light rail and bus transit links to provide true door-to-door service, ensuring systems are fully accessible for the physically challenged, having simplified ticketing arrangements, one ticket per trip
Southern California
Adding run through tracks to Los Angeles Union Station, the hub of the Southern California system, to accommodate more trains, run across town services, and reduce trip times
Expanding Regional Rail service in Southern California, by making Metrolink and Coaster a coordinated 7 day a week, all day operation
Extending Southern California Regional Express Service to Palm Springs, the Coachella Valley, and eventually to Phoenix and Tucson, AZ, and extending commuter service to Santa Barbara
High Speed Rail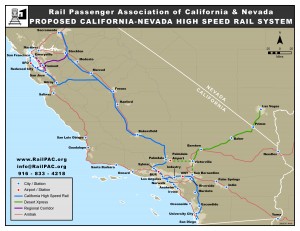 Amtrak National System
RailPAC advocates continue to support the following goals for improving the Amtrak system of long distance trains that enter/leave California.
Accelerated repair of the many Superliner cars deadlined at Beech Grove, Indiana
Improved Amtrak accounting cost allocations by replacing its RPS model procedures, and we support the passage of SB 294, the Amtrak reauthorization bill
Expansion, improved on time performance, and vigorous promotion of long distance intercity service

Daily

service for the Sunset Limited, resuming its extension to Jacksonville, and returnng to Phoenix
Resumption of the Desert Wind service from Los Angeles to Las Vegas, and Chicago
Continuation of enhancements to the Coast Starlight